Hokies in New York

Join fellow Virginia Tech alumni, friends, and family for an evening of conversation and connection at the Hokies in New York networking event Nov. 14 at the Chelsea Piers.
CHAPTERS & AFFINITY GROUPS
Virginia Tech Class Rings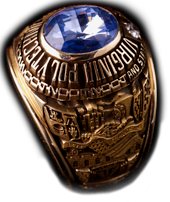 The VT Class ring embodies and invokes memories, traditions and pride that tie Hokies, young and old, together. The tradition began in the 1911-1912 school session when four classes (1911-1914) designed their rings.