CHAPTERS & AFFINITY GROUPS
Virginia Tech Class Rings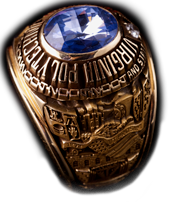 The VT Class ring embodies and invokes memories, traditions and pride that tie Hokies, young and old, together. The tradition began in the 1911-1912 school session when four classes (1911-1914) designed their rings.
Meet Matt Winston
"Hokies are generous. We serve. And we need Hokies from all walks of life to give to the University and to support their local Alumni Chapter."
Making matches at the Virginia Tech Carilion School of Medicine

With three graduating classes and a fourth set to finish in May, the medical school has earned a reputation as a competitive school, matching its graduates into top residency programs across the country. But internally it's also gained a reputation as a relationship matchmaker.

Virginia Tech alumnus has the National Mall covered

College of Agriculture and Life Sciences alum John Royse's "turf tiles" were some of those used to cover the ground on the National Mall during the presidential inauguration and at the Women's March. The tiles minimize damage to grass during large events.